NEO JOE
Regular price
Sale price
$17.99 AUD
Unit price
per
Sale
Sold out
Didn't think you could love your morning coffee any more than you already do? Let us show you how with NEO JOE coffee slings that help you carry more than just your coffee cup.
why neo joe?

Eco friendly
Reusable
Secure
Small and lightweight
Reliable
Compact
Designed in Australia
Female-owned business
How to use

Check out our guide on how to use your Neo Joe Coffee Sling here
30 Day Happiness Guarantee

At Noe Joe, we offer a 30-day Happiness Guarantee on all of our products. Simply return the products within 30 days of purchase for a full refund – no questions asked.
Supporting Friends for Good

At NEO JOE we donate a portion of our profits every year to the charity - Friends For Good.

Friends for Good is a volunteer driven, not-for-profit Australian charity dedicated to ending loneliness. You can find out more at friendsforgood.org.au
View full details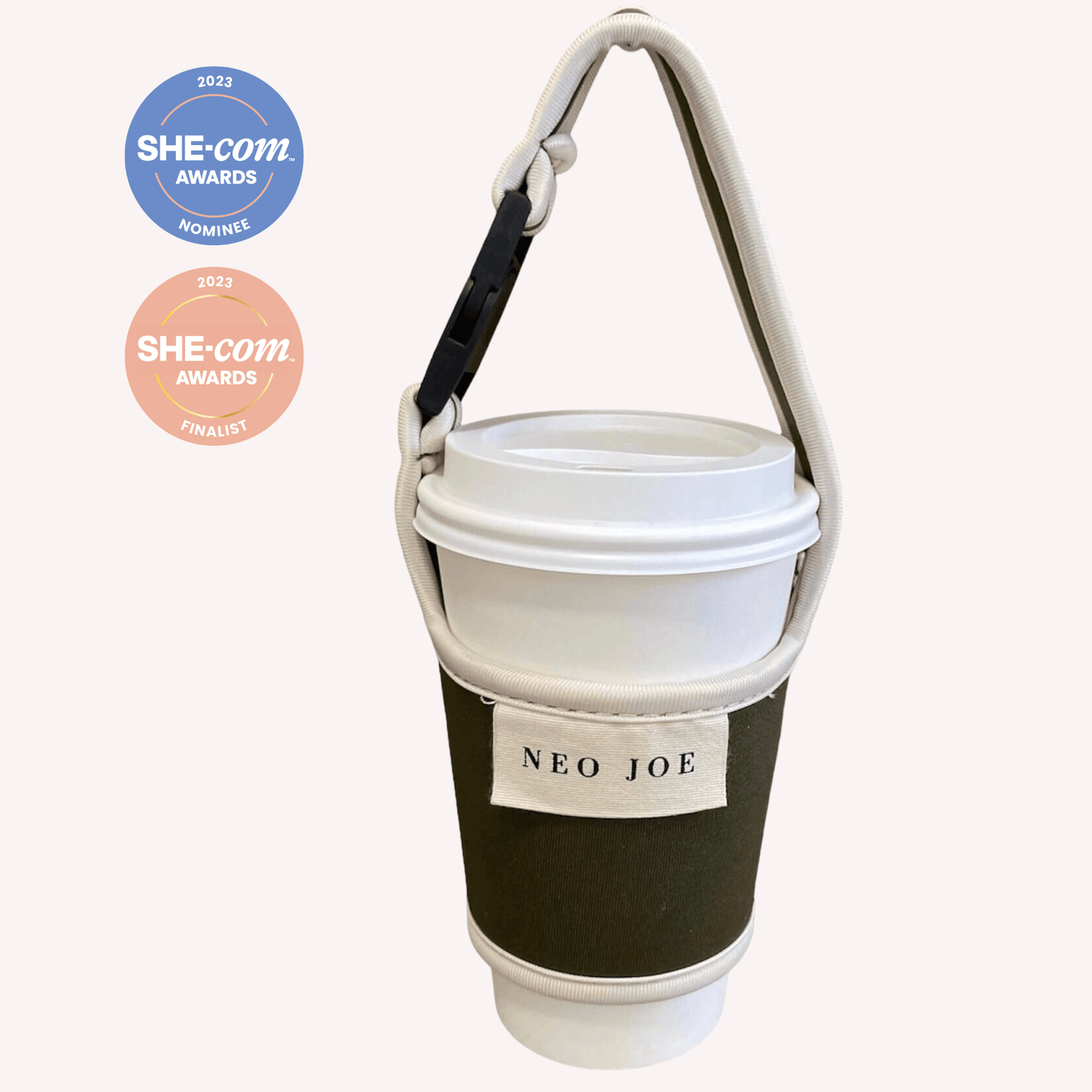 The NEO JOE Coffee Sling is a simple solution for coffee lovers who need an extra hand. We are dedicated to helping busy multitaskers, like mums with babies and toddlers, dog walkers, office workers, nature lovers, E-scooter and bike riders have their coffee on the go.
NEO JOE Coffee Slings were designed to use instead of disposable cardboard trays and with convenience in mind. 
Although some single use items like cardboard trays are recyclable, around 30% of all cardboard waste ends up in landfill.

Experience the effortless and painless way to carry takeaway coffee.

Choose from six colours:
PINK
BLACK
KHAKI WITH BLACK TRIM
KHAKI WITH BEIGE TRIM
BLUE GREY WITH BLACK TRIM
BLUE GREY WITH BEIGE TRIM
Each Neo Joe Coffee sling is 21cm high, 11.5cm wide at the centre, and 9.5cm wide at the base.
It will fit most MEDIUM and LARGE takeaway and reusable cups.
Not recommended for small cups.
The Neo Joe Coffee Sling is designed to fit standard shaped coffee cups where the rim is wider than the bottom.
Do not use with cylinder shaped cups.